The time has come to say goodbye to Juju's beautiful curls. He's a big boy now. It's hot outside. Brushing his hair was bringing much tears and drama, and MamaBear tries her best to keep tears and drama at our house to a minimum.
As you can see, he is pleased with his new big boy cut. Big brother got one, too. And DaddyBear, but I didn't get his picture.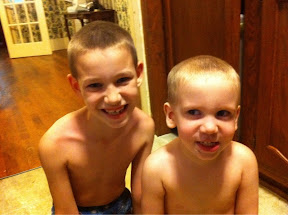 Now I can add "barber" to my resume.